No longer supports complete shutdown mode
Using nRF9160 B1A variant
Now supports "buttonless" DFU mode
Now supports direct USB-C connection
Added:
Ferrite and 47u for power inputs
Additional bypass to match nRF9160 reference
Changed:
Relocated CP2102 closer to USB connector
Improved ground return paths
Pins reference nRF9160 pin numbers
Changed 47uf cap to 4.7u for B1 variant
Replaced Buck with TPS62840
Added jumper for disabling charger
Added current resistors for CC pins
Added connections to RESET and MODE pins to CP2102 for buttonless DFU mode entry
Moved SIM holder
Re-routed battery measurement circuit
Replace charger with BQ25170JDSGR and updated supporting passives
Removed:
Changed:
Changed power supply to use TI's LM3281
USB connector to USB-C
Changed schottky diode part to make more room for USB-C
Updated 3D render
Renamed LNA_EN to GPS_EN to avoid confusion
Charging LED fed by 5V
Replaced battery charger with Microchip MCP73830T
Improved/cleaned up power and return paths
INT1 is now an optional jumper
Added:
Added INT2 connection for accelerometer with closed jumper
A0 and MODE pin of LM3281 connected for PWM/PFM control
Fixed SCL/SDA labels
Added test points for SIM tests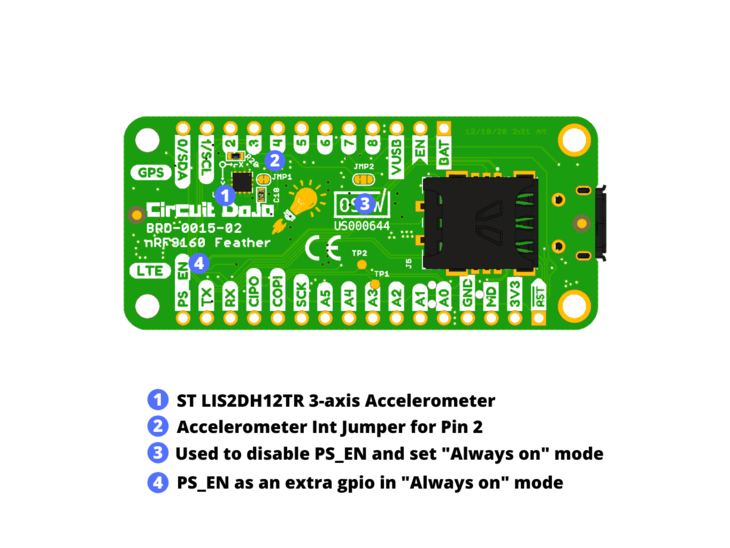 Added 3-axis Accelerometer by ST (LIS2DH12TR). Zephyr/nRF Connect SDK includes built-in support for this chip.
Added Accelerometer INT1 pin to Pin 2 on the board.
Added JMP1 to free up use for Pin 2 (INT1 pin on LIS2DH is push/pull an always on)
The power supply enable signal, which originally was inaccessible, is now available next to the TX pin.
Added JMP2 to disable PS_EN's connection to the power supply. "Always on" operation by shorting the middle and right pads on JMP2.
Updated the bottom side labels thanks to Sparkfun's Buzzard tool. They deserve all the credit there!
Added accelerometer sample
Added bme280 sample
Changed
Changed note about compiling app
Changed instructions about installing nRF Connect Desktop
Fixed typo related to the bootloader-use section of Programming and Debugging
Updated bootloader moe instructions
Changed link to nRF53DK
Fixed various typos
Updated instructions for getting modem trace
Install insructions updated to 1.5.0
Adding entries to agps sample prj.conf
Removed
Video for putting device into bootloader mode (outdated)
Added
Added a page about compatible cloud infrastructures
Added some extra help related to newtgmr